♥ Translated by Marieke Rijksen (whisperingbold) ♥
Christmas DIY! Christmas trees of van sheet music.
Sinterklaas just left the building (and country), probably still stuck on his boat, and here I am with a cool Christmas DIY. Something we can all easily do and is also a great activity for some quality time with the kids!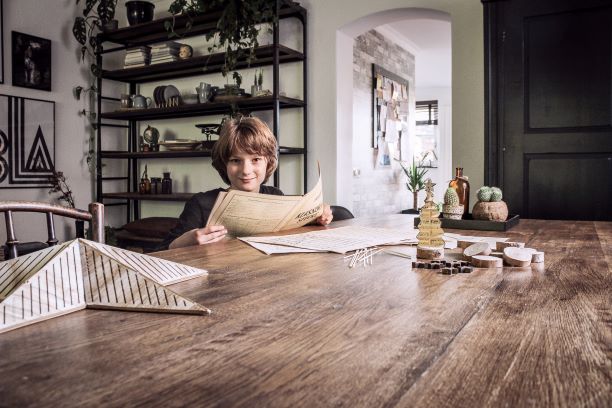 Cosy at home.
Because I am craving to keep Christmas nice and simple with my family this year, it seemed like a good idea for me and Teun to get into the Christmas spirit already and do some Christmas arts and crafts together. It's simple to make and all required supplies cost me less than 5 euro! I did go to the thrift shop to find some sheet music however. It costs next to nothing there and had that nice aged, yellow look I was aiming for. Exactly what I was after.
What do you need?
• A thick branch with a diameter of about 6 cm (let it dry out on the heater)
• Wooden skewers
• Sheet music
• Decorative stars (e.g. stickers). I found them in the Christmas aisle of the garden centre.
• A lighter (optional)
Method:
• Turn the branch into little discs of about 1.5 cm thickness (by hand or electric saw) Drill a hole in each disc, the size of the skewer.
• Cut the sheet music in the share of a Christmas tree. Ensure you make narrow trees!
• Fold the cut out trees into paper ladders
• Thread a skewer through each step of the ladder
• Burn the sides of the tree a little bit of you wish
• Use two star stickers to create a tree topper (stick them together on the top) – mine were wooden with a little hole drilled in the middle
• Then insert your tree in the disc.
• And your trees are done!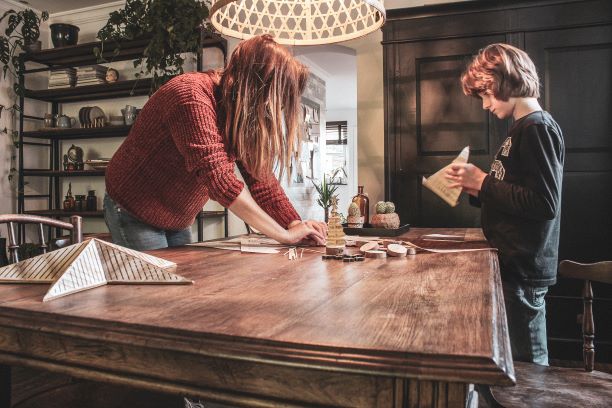 We had fun!
I like grouping them together on a serving tray. You can also use them as decoration on a nice laid Christmas table. Teun and I enjoying this DIY project and it was super easy too!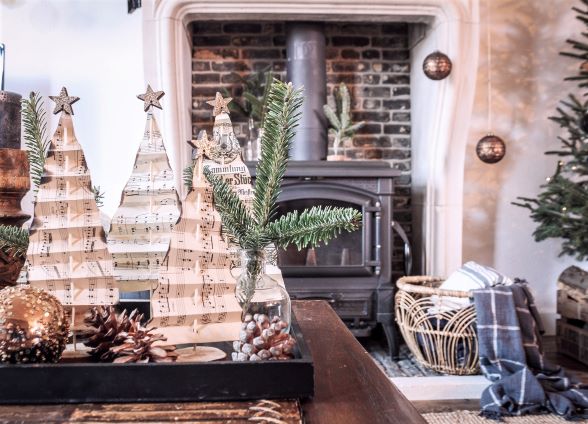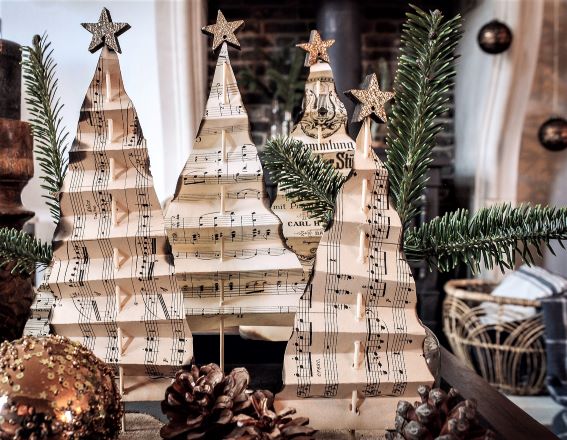 More inspiration.
Do you also enjoy some Christmas arts and crafts? You're in luck! Together with 17 other nice bloggers I am part of a Christmas DIY blog train, totally centred around arts and crafts projects. Just check out Ilse of Interior Twin. She started the train with a tree on canvas. Nother few followed and I was passed the train baton by Maruska van Roestompoes. Maruska made a lovely DIY.
I am passing on the baton to Ingeborg . I am curious to see your project Ingeborg!
Love, Andrea