My nasi goreng recipe
This really is a simply but yummy nasi goreng, a bit what you'd expect from the local take away shop. Kids usually love this and you can obviously dress it up as you please, with some kroepoek (prawn crackers) and sate sauce. No store-bought ready-made mixes, apart from the sate sauce. Our favourite is Calvé, and that's from a jar!!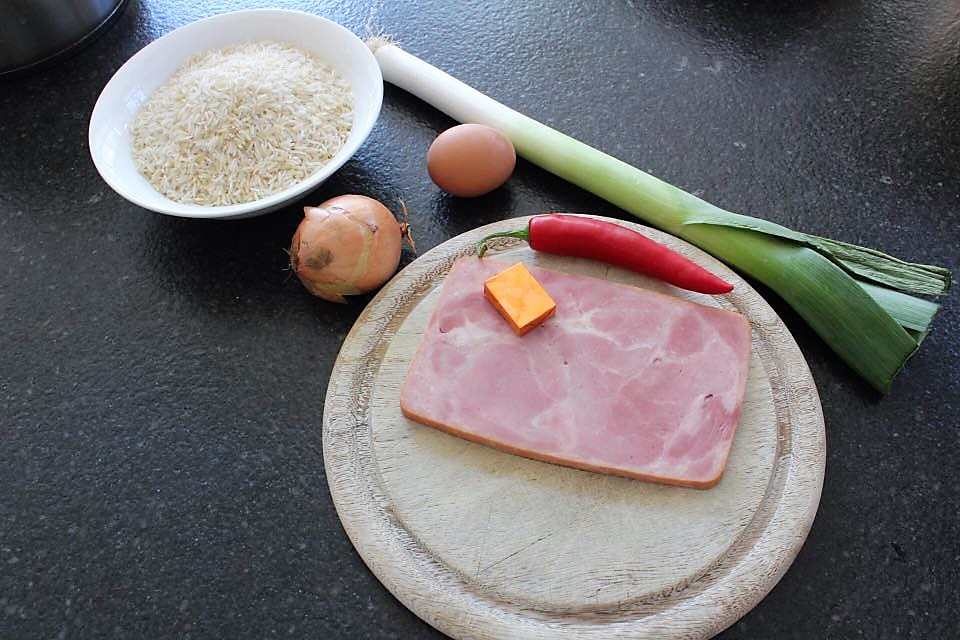 What you need for 4 people:
400 gr white rice
1 cube of chicken stock
1 red chilli
1 leek
1 onion
1 egg
olive oil
nice thick slice of York ham
pinch of MSG (sodium glutamate) if you like, but really no more than a pinch!
How to prepare:
Boil the rice in water combined with the stock cube. This really enhances the flavour of the rice. This is when you add the pinch of MSG if you want to. MSG is a flavour enhancer that intensifies the meaty, savoury flavour of food. It's used a fair bit by our local Chinese take away shops. Some people react badly to food that has MSG added to it. So please be warned and investigate prior to adding to your food. I only use a tiny bit, a pinch really.
Let the rice cool and in the meantime cut up your vegetables. Cut the leek in semi circles, dice the onion, clean the chilli (remove the seeds) and cut finely. Dice the slice of ham and whisk the egg.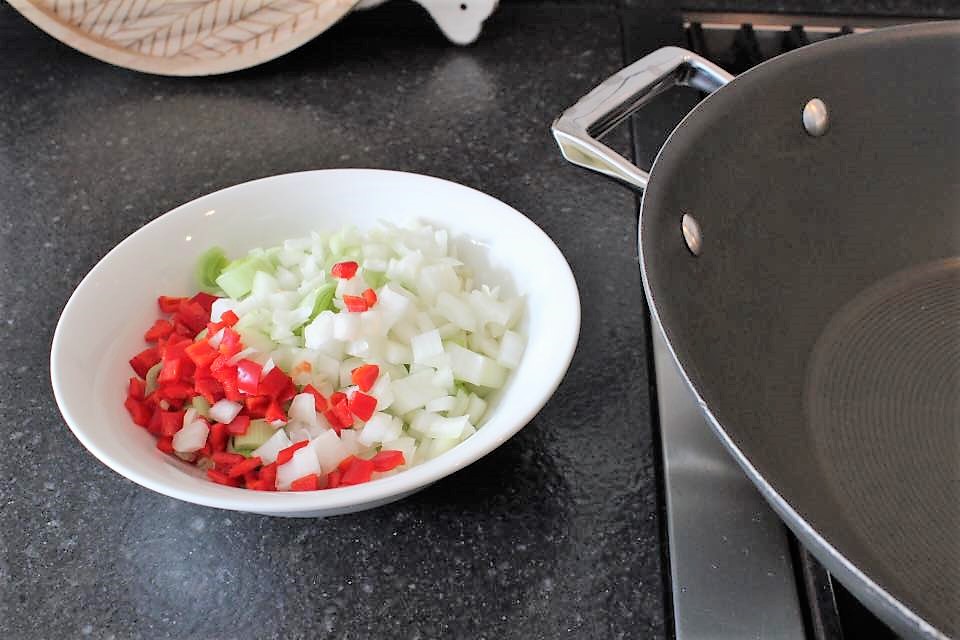 Add a bit of oil to a wok. When the oil is hot, add the leek, onion and chilli to the wok. Stir fry the vegetables but ensure they don't go brown. Slide the vegetables to the side after about 5 mins and use the other side of the wok to fry the egg. Add the egg bit by bit, scrambling the egg with a fork. When you've added all the egg, stir it through the vegetables.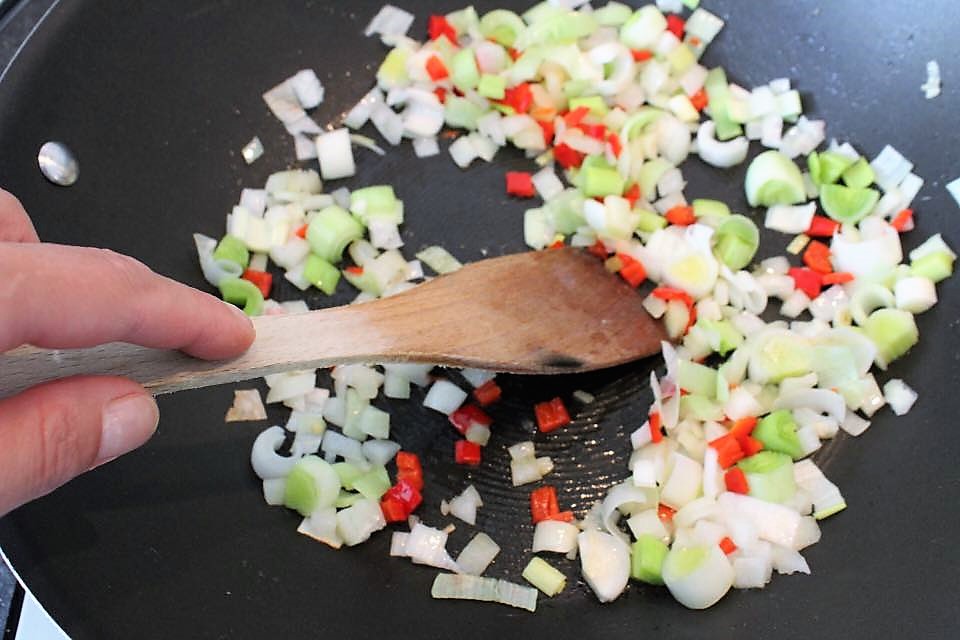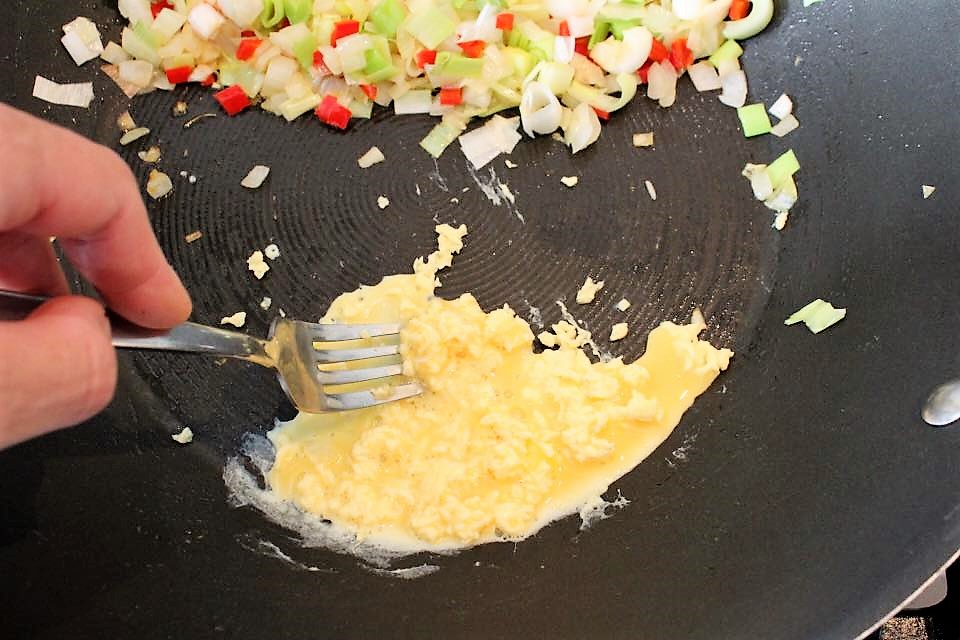 At this point you add the rice. Do this in 3 stages. So add a third of the rice to the vegetable mix and fry on high heat. Then add another third, and then the last. When all rice is mixed with the vegetable mix, you add the ham cubes.
Your nasi goreng is now done! Season to taste if you wish, although I never do. The stock has added enough flavour already.
I always serve this nasi with chicken or pork sate. I cut the meat in cubes and let it marinate in my own home-made marinade for at least an hour. Longer is fine too! Below is the recipe for my marinade.
What you need:
3 garlic cloves
1 large onion
4 tbsp ketjap manis
1 tsp coriander seed
1 tsp ginger (preferably freshly grated)
½ tsp cumin seed
1 tsp sugar
1 tsp sambal
juice of 1 lime
Mix all ingredients together and marinate the chicken or pork filet in a bowl. I simply fry this (after at least an hour) in a skillet. Obviously you can also use the grill or, perhaps even more fun, the BBQ!
Serve the nasi goreng and sate with kroepoek (prawn crackers), atjar tjampoer and sate sauce. I always use a jar of ready-made sate sauce of Calvé. We love that one the best! Of course you can make it fresh as well – you can google plenty of receipes!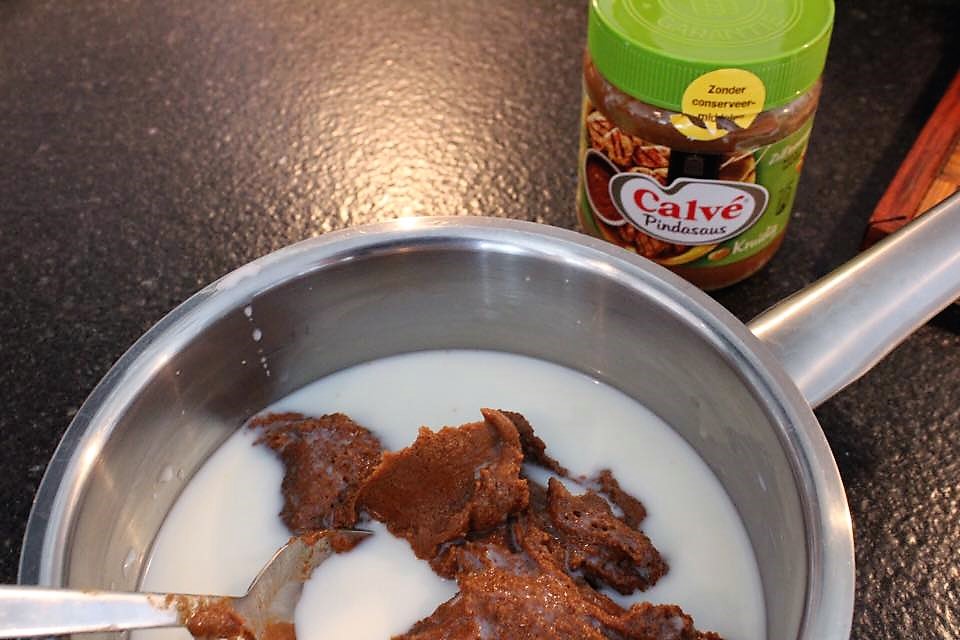 Enjoy your meal! Let me know if you're going to try this recipe? I would love it if you'd let me know!
Love, Andrea
---
This blog post is translated by Marieke Rijssen (@whisperingbold)