♥ Translated by Marieke Rijksen (whisperingbold) ♥
The new trend colours for 2019
Hurray! Why hurray? Because the introduction and continuation of the new trend colours in 2019 make me very happy! Say goodbye to the fifty shades of grey and hello to the warmer earthy colours that were already started to pop up in the autumn of 2018.
It can all be a little louder in the new year. Of course we will still see the minimalistic trend but it's ok again, a bit of colour in the home! And then I don't mean the softer pastel tones but the outspoken curry and rust colours. Think about matching it with cobalt blue and you're getting it! With the event of these colours the interiors are slowly changing and are becoming more eclectic, explicit and individualistic in nature. Bronze, matt golden or black accessories match perfectly with these colours.
Do you want colour but not quite so outspoken then perhaps beige, nude and brown shades are a good choice for you. In combination with tan they form the perfect basis for a warm inviting interior. Bamboo tables and chairs fit these colours fabulously. Beautiful robust leather couches or occasional chairs are a must in combination with these warm colours. Oh how much do I love this trend!
The beautiful warm colour of the year Spiced Honey (by Flexa) fits seamlessly with this softer colour explosion. I've written a bog about this warm colour earlier. I love to combine the colour ochre with this colour. It's a match made in heaven!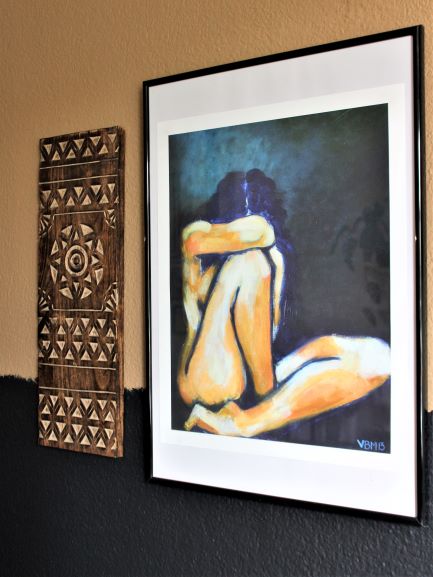 Who's known me a little longer realises I don't follow trends that easily. I either love something or I don't and follow my own direction. But I must say, this trend I happily follow! I even hope that we'll find more of these colours well into the summer season. Gorgeous cushions and plaids to combine with bamboo and rattan materials. Gorgeous.
What do you think of these colours? You're going along with it or do you stick to what you've got? It's obviously all about what it is you like, and what makes you feel happy. And if that's fifty shades of grey, by all means go for it! Trends come and go, but your interior will always be there and should feel like home, not necessarily trendy!
Love, Andrea