Translated by Marieke Rijksen (whisperingbold)
Hotspot! Conceptstore Vintage Brabant.
Last Friday I visited a super cool, busy and fun vintage shop in Oudenbosch, Vintage Brabant, with my daughter Kim.

Invited.
We were invited to come and take a look in this 600m2 warehouse. Right up my alley! I love vintage and browsing through vintage stuff is really one of my hobbies. We agreed to visit Friday morning. Afterwards we went on to Breda for some further shopping. We arrived early; took us a while to find the warehouse but luckily we all have a sat nav in our cars or on our phones these days! Once inside, I didn't know where to start! So much to see! Every corner was put to good use. After wandering for a little while I went looking for the owner.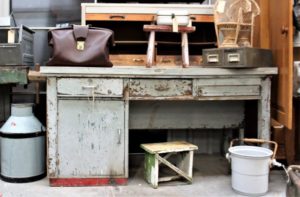 Collective.
We met owner Bianca Hubens and colleague Christa Kamermans who kindly offered us a cup of coffee. There's a cosy coffee corner and you could even enjoy a piece of apply pie. How nice is that! Enthusiastically Bianca told me how she started this unique shop, about 3 years ago. The shop houses a number of entrepreneurs that all have their own spot. This varies from the brand Noa May Living to Meubels met een verhaal. Together they form a collective, which is what makes this vintage shop so unique. There's always room for new entrepreneurs.

Vintage cabinet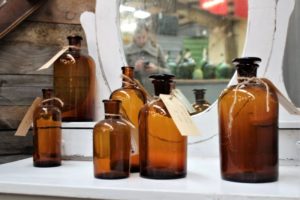 Due to the ever-changing items the shop is very refreshing and you keep seeing new and different gorgeous items. I saw beautiful workbenches, vintage rugs but also beautiful cabinets. I bought a little vintage cabinet which I'll turn into a medicine cabinet, and a number of vintage pharmacy bottles. I'd been looking for those for a while but just couldn't find them at the local thrift shop. That's a difference too by the way, Vintage Brabant pre-selects items before they get put up on display.
Workshops.
They also hold workshops. Pimp a piece of furniture with the beautiful paint collection Milk Paint (also sold through the shop) but also how to create mood boards or create an autumn wreath are a few examples of workshop topics.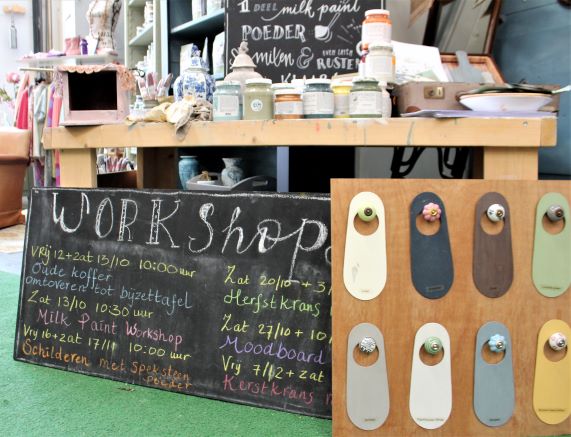 Visit Vintage Brabant!
I thought it was a fun and cosy shop with a good variety of items. It certainly appeals that next to their product offering, they also organise events! Definitely worth a visit. So if you are in the neighbourhood, or are planning a shopping trip, don't forget to include Vintage Brabant!
Love, Andrea