Coloured Vintage – my new favourite
The seasons are changing and I for one simply cannot wait for summer! We had a little burst of spring lately, with the sun starting to make an appearance every now and then, as well as few buds starting to flower. Instantly I get the urge to change things around and revamp our home in anticipation of those long, sunny days.
Spring Revamp
I've already started outside. My garden make-over is in full progress. Total chaos at the moment but it's going to be gorgeous; lush and green, with lots of design elements. We're from Australia, indoor/outdoor living is so important to us. Struggling through European winter, we're coming out of hibernation right about now. Our live-in kitchen, looking out over the garden, is the centre of our home in the summer season. I also call it our summer living room. Lots of light, greenery, sunshine, and bursts of colour. My blue couch and exposed brick wall make a statement, and connect the garden, kitchen and sitting area. But I felt like it needed a splash of spring colour, so I went on the hunt for a new rug.
I like a bit of individuality. I like natural elements, statement pieces and robust characteristics. I like vintage. I also love items with a story. So, when I stumbled upon CarpetVista and their selection of coloured vintage rugs, everything fell into place!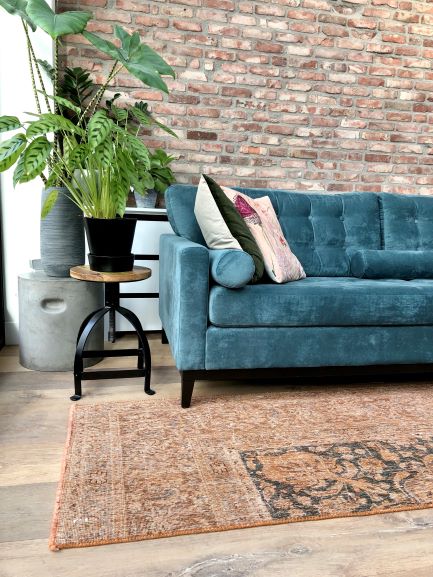 My new Coloured Vintage rug
I am totally obsessed with my new handmade vintage rug (few decades old) from Iran, in the new trendy colour of the season, soft pink. There is so much to see. Handmade carpets have imperfections since they are handmade (nobody is perfect), and this adds to the value, interest and characteristic of the carpet. And that's what I love about it. There's only one of these carpets, and it is right here, shining away in front of my blue couch in my home. I feel so lucky. It really compliments the brick wall, and adds a bit of oomph to the couch. I was given a certificate of authenticity which makes the rug (and me!) feel extra special.
No child labour
I was thoroughly impressed with the service of CarpetVista. Not only were they super lovely to deal with, the shipping was so fast! Only 2 days, which is amazing, given the warehouse is in Sweden. Nice to know, CarpetVista takes extra care in ensuring no children were involved in production of these rugs from all corners of the world. They have buyers who continuously visit and inspect the villages, workshops and resident nomads where the carpets are produced. They monitor the production of these carpets and check the working conditions. Knowing this makes me sleep soundly at night.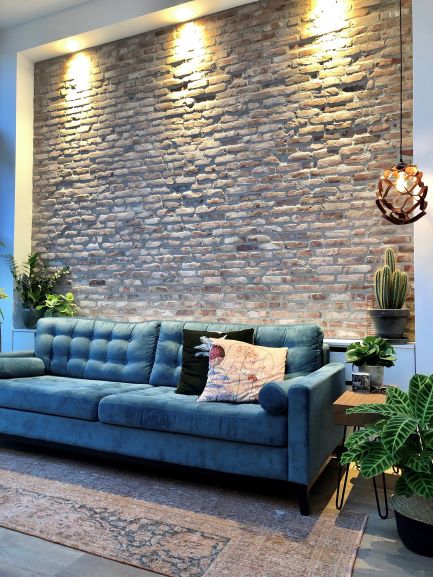 If you're looking for a new rug check out CarpetVista. Even if you don't need a rug, visit their website for inspiration. The collection is huge, so there's bound to be something that's right for you. And what you see is what you get. Let me know what you think. Would love to hear from you. Happy browsing!
Love, Marieke
@whisperingbold