♥ Translated by Marieke Rijksen (@whisperingbold) ♥
The new spring collection of Rivièra Maison.
So nice, a few weeks ago I got invited to come and view the new collection of Rivièra Maison. Truth be told, I wasn't sure what to expect. I wasn't too familiar with the brand and used to believe it wasn't quite my style. Early Friday morning, still hungry, I set off to attend this event, which turned out to be fabulous.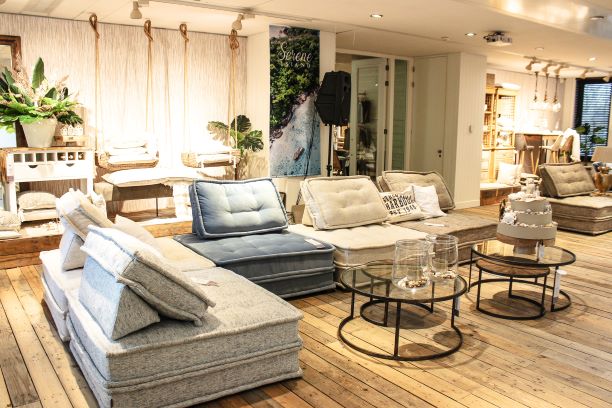 If you do something, do it right. I realised they clearly got that at Rivièra Maison as soon as I walked in. I was welcomed by lovely ladies who took my coat and offered me a cup of thee. I already saw a few familiar faces, which only adds to the fun at these events. It gives an opportunity to catch up with like-minded people. I had already spotted the most gorgeously laid breakfast table from the corner of my eye. That was the reason I didn't have breakfast! We were being treated to a beautiful breakfast courtesy of Pluk Amsterdam. Obviously the table was dressed up nicely with beautiful crockery and accessories of Riviera Maison.
But first of all Matia of Matia Studio made me this fun portrait illustration. Matia made the below drawing of me in no time. Really nice. Teun, who is a bit of an artist himself, thought it was a really good effort; that's truly you, mum! A real talent, if you ask me.
Slowly but surely all invitees arrived. When we were complete we took our seat at the breakfast table. So much goodness! The fruit bowl was divine and so where the thick sandwiches. I even took one in a doggy bag on the way back home.
After lunch creative director Nico Tijsen presented the spring trends and collection of Riviera Maison. In my opinion quite a change in comparison with previous collections! Or perhaps I had the wrong idea in the first place, that's quite possible. I really changed my mind about the brand, which used to be, frankly, furniture and accessories for the posh (sorry, I really did think so). I was hugely impressed with the gorgeous furniture such as couches, chairs and coffee tables. And the accessories such as cushions, throws and crockery were just to die for.
The 5 new spring collections in short.
• Palm Lane – Based on the lively sunny coast of Miami. In this collection you'll see beautiful colours such as pink, pistachio, coral and fresh blue. Gorgeous textiles in towelling, cotton and velvet.
• Café Floral – In this collection the feeling of exclusivity is dominant. Flashy cars, fancy restaurants, is what springs to mind in this collection. Fabrics in black and white, but also floral and tropical patterns feature.
• Stromboli – This volcanic island is full of idyllic white houses and aged grey wood. You'll find this in the collection of cushions and throws with beautiful distressed colours and made of natural textures such as rope and rough linen. One of my favourites!
• Barton's creek – It's all going back to nature with this one. Gorgeous navy, blue and shades of grey feature in this collection. Materials such as cotton and vintage jersey are frequently used, featuring bold stripes and details.
• Serene Island – Pearly white beaches and azure blue oceans, that's what this collection is based on. Linen in white, flax and coral green. Rich embroidery and chic finishing complete this collection.
So I was an instant fan! I also really enjoyed the relaxed vibe in the show room. The founder of Riviera Maison, Henk Teunissen, was present as well. The feeling Henk wants to convey with the brand exudes from himself: nice, calm, relaxed and no nonsense. Together with Nico he gave us a tour of the enormous showroom and they both told us passionately about the choice of furniture, materials and design. There's also a brand new collection of wallpaper. Wow. We saw some amazing prints and patterns! I was instantly in love with a black and white print that I'd love to see in my home. The American vibe of this wallpaper is so me!
I took lots of photos. See below for a compilation. I am curious to hear your opinion. I, for one, have fallen in love. I love beautiful things but at least as important is the feeling I get. And this company gives me a good feeling, without a doubt. I look back at an enjoyable and inspirational morning/afternoon!
Love, Andrea